A Wicked Woman to Howl For...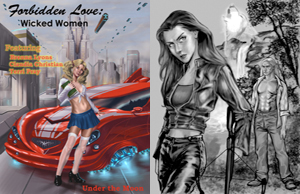 Wicked Women: Beasthuntress
Out to avenge her family's deaths, Amarie Badeau has vowed to destroy the beasts that killed them. She becomes the Huntress, tracking the monsters by day and stalking them by night.
Kolt Masatache is the leader of his people, a group who are hereditary shapeshifters. He watches Amarie and when she steps over the line, he knows he has to stop her.
Will Kolt be able to convince Amarie she is wrong? And will Amarie learn to trust the very beast who has destroyed her life?
Their worlds collide in a flurry of anger and passion and on a dark moonlit night they both will discover that to hold onto a forever kind of love you have to let it go... first.