CJ credits her passion for writing, to her second grade sweetheart, Steven, a blond haired cutie with dimples, who dumped her for a girl who could swing on the monkey bars. She wrote her first story about love and loss after that tragic episode.

Encouraged by a mother who is also a writer, CJ kept on writing, using her dreams and fantasies as guides.
A life long reader of all genres of books, CJ lists some of her favorites as Agatha Christie, Laura Ingalls Wilder , Lillian Jackson Braun, Jayne Anne Krentz, Anne McCaffrey, Piers Anthony, Barbara Cartland, James Herriot, Nora Roberts, Frank Peretti, Linda Howard, Jayne Anne Krentz, and a dozen other authors that have influenced her.
CJ was first published by Country Magazine when she wrote a touching story about the grandfather who helped raise her. She has also had work published by Rodale Press and has written several children's stories as well.
Trying to be a full time mom, and teacher put a crimp in the whole writing thing for awhile, and most of the stories CJ had in her head took the back burner to Algebra 1, Biology and Music. But it didn't stop her completely. Many a night, she could be found scratching out notes about a book that wouldn't get out of her head. It wasn't until her kids were older that she felt she had the time to do what needed to be done.
One cold winter night in Idaho during a blizzard, when she couldn't sleep, she got on the computer and started to write down one of the stories that she had dreamed up at night.
That story turned into her first full length novel, The Peacekeeper Journals, a eight book series about a group of supernaturals who join together to save humanity from evil.
Since then she has written about gods and goddesses, royalty, elves, shapeshifters, witches, mutants, vampires, and aliens, as well as just regular folks.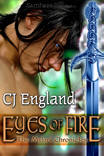 Her first accepted story was The Mylari Chronicles: Eyes of Fire which was later published by Samhain Publishing. It became a bestseller and has been given great reviews by fans and reviewers alike.
CJ has been nominated for several top awards including CAPA, Ari, and the Pearl. She has won Top Author awards from several review sites and was given the distinction to be one of Ecataromance Sensual's Top Five Authors.
Reviewers have had great things to say about CJ's work. Phrases like... With her incomparable writing abilities, CJ England touches the hearts of readers. Or... CJ England provides stories not simply about fantastic sex, but instead about that deep emotional tie or bond that occurs between soulmates. Or finally... The name CJ England is synonymous with the word excellence when it comes to writing.

One Moment of Unexpected Passion Turns into a Night That Would Change Their Lives Forever.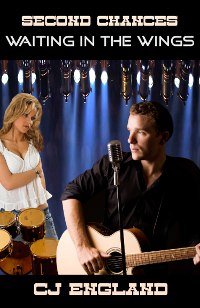 Second Chances:
Waiting in the Wings
When Callie Jacobs meets country music sensation Jordon McKenna, the mutual attraction between the two make sparks fly. Then, she awakens the next morning, a victim of a new date rape drug.
Can Callie and Jordon sift through the betrayal and lies to find the truth? Will they ever be able to trust each other enough to have a second chance at love.
**The author is donating a portion of the proceeds to RAINN. For more information please go to http://www.rainn.org/ .