CJ England felt like she was always a little different from everyone else. Never content to spend too much time doing the same thing, she enjoys her writing for the
simple reason that in a book, she can do anything she wants to do, and never gets bored.
She calls herself a gypsy, due to her curiosity and "itchy feet", She has spent time in twenty-three countries, and visited all 50 states in our own.
Married for 25 years to the same wonderful and slightly crazy man, she gives her husband all the credit for her writing. "Not only is he a great inspiration for sensual romance, he gives me the ability to concentrate on my writing just by supporting m
y dream."
In 2009 they both realized another dream. CJ and Jonathon celebrated their 25th wedding anniversary by heading to Gretna Green Scotland and renewing their vows. CJ said that as a romance author, it was the only thing she could do! And having Jonathon dress up in a kilt was the cherry on top of the cake.
In her life, CJ considers herself a "Jill of all Trades". She has modeled, competed in rodeo as a barrel racer and trick rider, taught preschool, performed as an actress and singer, served cocktails at Disneyworld, specialized in production work, got carried away by Spiderman when she worked with him at Universal Studios and .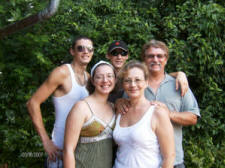 But her best gig ever, has been being a wife and a stay at home mom. She has home educated her three kids. Her oldest, Jessaca, is a certified massage therapist. Jeramiah, her oldest son has a career as an IT consultant, and her youngest son, Jasiah, like his mom, has itchy feet and drives a truck for a living.
A natural empath, CJ uses her gift to try and make sense of her everyday world, and keep track of four ferrets, a dog and a cat, as well as her family who is as "unique" and "different" as she is. It is a never ending, and always interesting way to spend her days, and she wouldn't change a second of it.
As of this writing, CJ and her husband Jonathon tour the world with Cirque Du Soleil where he works as the Electrical Maintenance Coordinator. First with the show Corteo and now with Kooza.
CJ also worked with the circus for a while as a backstage manager, but since it took away from her writing, she now uses her time researching all the fascinating exotic locations she visits. CJ now has so many ideas for books she often says she'll be writing into the next century.
It's a tough job, but someone has to do it!!!

Everything Can Change With Just One Look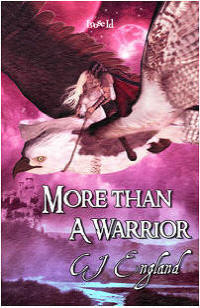 More Than A Warrior
While Prince Jhoral, the heir to the Farsaean throne, leader of the Skyhawlk Flyers, visits neighboring Kylia, he's invited to watch a special Empathic Melding Ceremony. He attends, as a courtesy, even though he doesn't believe in it. But his whole world is turned upside down when stubborn, stunning Lanai chooses him to be her receptor. Their minds meld together in exquisite tenderness and passion and centuries of tradition are shattered in an instant.

Lanai has waited her whole life for the one person to complete her. But, unlike other empaths, she has always wanted more than to be a vessel for her bondmate. Adventure, excitement...even love. However, her dreams couldn't have prepared her for the shock of mating with a dark warrior prince whose life is filled with so much violence, so much war.

Despite the obstacles, the two are determined to stay together. Will the melding of their minds bring their peoples to the brink of war, or will they together teach both countries and themselves, the power of true love?