Fun Stuff
And because life isn't complete without a little fun, check some of this out.
Eye Candy
Women are visual creatures too! We love eye candy, and I have gathered some nice pictures that I hope you will enjoy too. Click on the candy you would like to taste!
Photo Albums
Get to know a bit more about CJ, her travels, family and friends.
(The Following Albums Coming Soon)

My Family is the Wind Beneath my Wings
Have Some Naughty Fun with this Very Special Torrid Twisted Tale!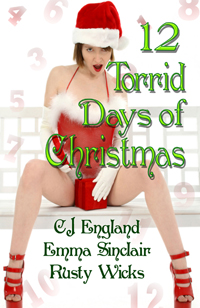 12 Torrid Days of Christsmas
Add a dash of passion, eroticism and sizzling sex to this turned-on version of the Twelve Days of Christmas!

One erotic romance story based on each day! A partridge in a pear tree, calling birds, lords a leaping, and maids a milking have never been so incredibly sexy!

Jingle your bells and more with stories that will heat your Christmas days and nights!.