Second Chances: Waiting in the Wings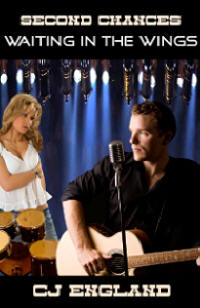 MOBI ISBN: 9781943853007 / EPUB ISBN: 9781943853014
Available Now from Restless Wind Publications
Plus Novel / New Edition
Print Novel Coming March 2016
What if one moment of unexpected passion turned into a night you that would change your life forever?
When Callie Jacobs meets country music sensation Jordon McKenna, the mutual attraction between the two make sparks fly. Then, she awakens the next morning, a victim of a new date rape drug.
Can Callie and Jordon sift through the betrayal and lies to find the truth? Will they ever be able to trust each other enough to have a second chance at love.
**The author is donating a portion of the proceeds to RAINN. For more information please go tohttp://www.rainn.org/ .

REVIEWS

Ms. England should be applauded for how she delivers this poignant story about date rape.~~~Ecataromance Sensual
An incredibly moving, poignant, emotional and even sometimes harsh look at the world involving rape. A Blue Ribbon Favorite.~~~Romance Junkies
CJ England has written her most powerful story to date. A Recommended Read.~~~CK2S Kwips and Kritiques
I curtsy to you, Ms. England, for a supreme job on this subject matter and for everything you are attempting to do to draw attention to this matter.~~~Dark Angel Reviews
The romance part of this story, and it is a romance story, is superb. I highly recommend this story to anyone who loves an outstanding romance. Not only is this story intense and pleasurable but a portion of the profits is going to charity. What a win-win offer!~~~Night Owl Reviews

Excerpt from Waiting in the Wings